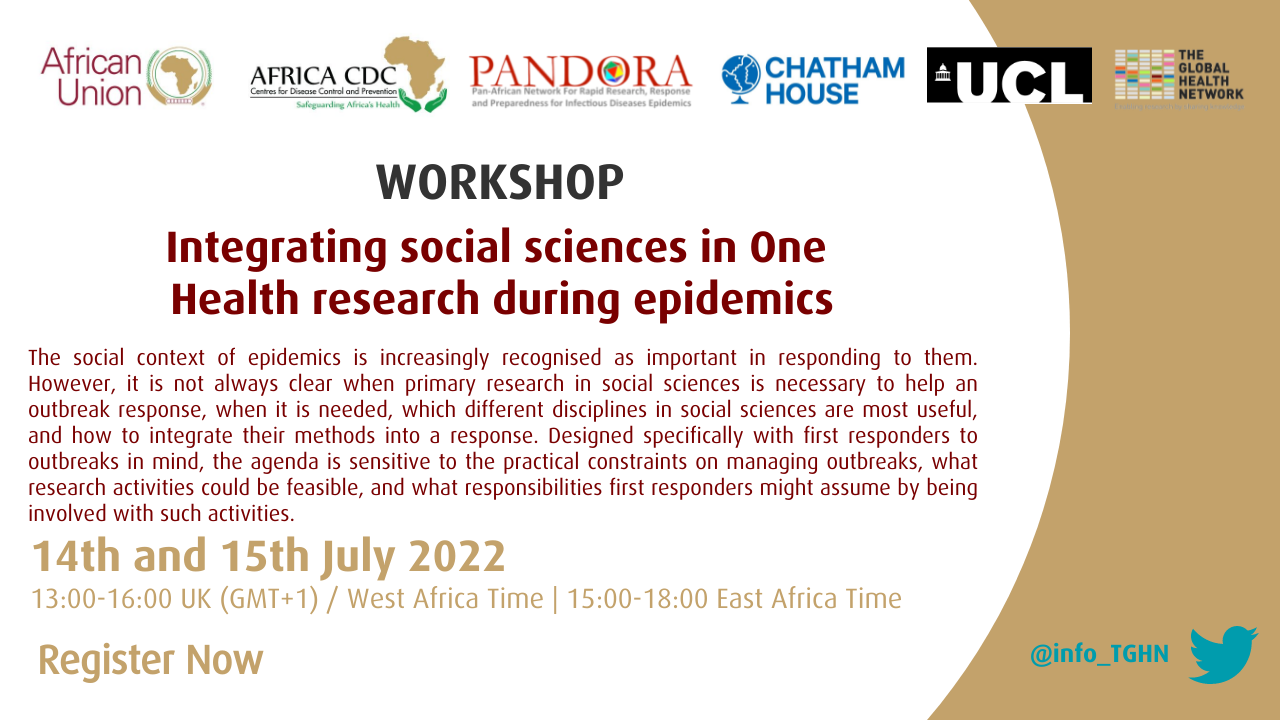 The social context of epidemics is increasingly recognised as important in responding to them. However, it is not always clear when primary research in social sciences is necessary to help an outbreak response, and when it is needed, which different disciplines in social sciences are most useful, and how to integrate their methods into a response. Social sciences can significantly contribute to the understanding of how to respond to an epidemic holistically. Without an understanding of how anthropology, behavioural science, sociology, geography, linguistics, economics and so forth, epidemic responses will be inadequate. This is further emphasized by the One Heath commission (One Health Commission, 2022).
Designed specifically with first responders to outbreaks in mind, the agenda is sensitive to the practical constraints on managing outbreaks, what research activities could be feasible, and what responsibilities first responders might assume by being involved with such activities.
While there are many international ethical codes of conduct from which to draw, this workshop will bring together regional and local expertise in social sciences in 'One Health' to share their reflections on how to integrate social science knowledge and primary research methods into outbreak responses in Africa and to share experiences of different stakeholders to help think through the key challenges for research in this environment.
Participation in the workshop will entitle delegates to access facilities for a longer-term discussion forum through which queries can be posted for rapid answers and discussion of ethical issues, different views and values arising in practice can be shared and facilitated. This workshop will be part of a greater strategy to form the foundation for a coordinated and integrated strategy in the social sciences for outbreak responses across Africa.
---
The main aims of the event are to:
Identify the current as well as potential role of different social science disciplines in epidemic responses including the One Health approach in Africa and build awareness for The Africa Centres for Disease Control and Prevention.
Identify gaps in recent and current provisions for epidemic response and find potential solutions by incorporating insights from various social science disciplines.
Recognise when and from whom existing knowledge in social sciences can be sought to address social problems during epidemics and when primary research is needed, including the optimal conditions for conducting the same.
Help integrate collaborative research methods in the different social sciences into outbreak response management.
Promote ethical social science research, community engagement, and opportunities in "One Health".
Consolidate and share collective African social science expertise in delivering a more robust and comprehensive epidemic response.
Consult regional and local views and values in this domain to inform the work of the Africa CDC.
Identify barriers in integrating different social science disciplines in epidemic responses.
To gather evidence for facilitating epidemic response management and informing policies for the same.
Cascade training and materials through these first responders who are senior and specialist public health practitioners who can, in turn, train local colleagues.
Day 1
Day 2